Welcome to the app Bible easy to understand, the best companion in your Bible study!
Enjoy the eternal Word of God in the language of English-speaking people today.
Once you have downloaded the app, you can read the Bible offline, without Internet connection!
At the same time, you will be able to listen to the Bible anytime, anywhere!
Inside this app you will find:
– Bible in Basic English version of the Bible
– Free downloading
– Audio-Bible to listen to the Holy word
– Possibility of bookmarking or highlighting verses
– Save any verse to read it again and again
– Memorize and share with friends on social networks
– Ability to increase or decrease the font size of the text
– Night mode to protect eyesight
– Add notes to the verses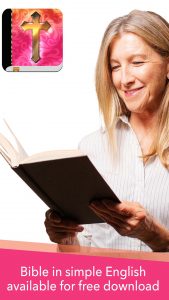 The Bible in Basic English (BBE) is a translation of the sacred book into Basic English. This version of the Bible was made using the standard 850 Basic English words.
A perfect Bible for people with limited education or where English is a second language. Enjoy this easy to read version of the Holy word on your phone or tablet and share the holy message with your relatives and friends.
Here you have the complete list of the books of the Bible:
The Bible in Basic English is divided into two main sections: The Old and the New Testament.
The Old Testament was published in 1941 and contains 39 books: Genesis, Exodus, Leviticus, Numbers, Deuteronomy, Joshua, Judges, Ruth, 1 Samuel, 2 Samuel, 1 Kings, 2 Kings, 1 Chronicles, 2 Chronicles, Ezra, Nehemiah, Esther, Job, Psalms, Proverbs, Ecclesiastes, Song of Solomon, Isaiah, Jeremiah, Lamentations, Ezekiel, Daniel, Hosea, Joel, Amos, Obadiah, Jonah, Micah, Nahum, Habakkuk, Zephaniah, Haggai, Zechariah, Malachi.
The New Testament was published in 1949 and contains 27 books: Matthew, Mark, Luke, John, Acts, Romans, Corinthians 1 and 2, Galatians, Ephesians, Philippians, Colossians, 1 Thessalonians, 2 Thessalonians, 1 Timothy, 2 Timothy, Titus, Philemon, Hebrews, James, 1 Peter, 2 Peter, 1 John, 2 John, 3 John, Jude, Revelation.