Finding the Scriptures too difficult to understand? Get our Study Bible that helps you to understand the Holy Word
Download for free a Bible made with notes, commentaries, sub-headings an explanations to assist the reader to interpret the real meaning of the Bible.
Enjoy one of the most influential study Bibles of all time, King James Version, with notes written by Cyron Ingerson Scofield, an American theologian and Minister.
This study Bible became very influential among Christians in the United States.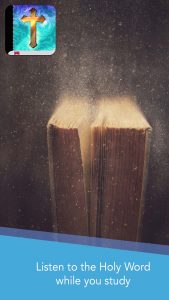 New functions of the app:
– Audio Bible to listen to the Holy Word
– Complete Study Bible with Scofield commentaries
– Free and offline (the app works without an Internet connection)
– User-friendly interface
– Ability to increase and decrease the font
– Set the night mode for a comfortable reading
– Bookmark your favorite verses
– Marking favorite verses and sharing them on social networks
– Create a list of favorites
– Add your own notes
The Bible is divided into two testaments: the Old and the New "Testament." The word "testament" is an old English word that means "covenant" or agreement, between God and humankind.
The Old Testament consists of many distinct books by various authors over a period of centuries:
(Genesis, Exodus, Leviticus, Numbers, Deuteronomy, Joshua, Judges, Ruth, 1 Samuel, 2 Samuel, 1 Kings, 2 Kings, 1 Chronicles, 2 Chronicles, Ezra, Nehemiah, Esther, Job, Psalms, Proverbs, Ecclesiastes, Song of Solomon, Isaiah, Jeremiah, Lamentations, Ezekiel, Daniel, Hosea, Joel, Amos, Obadiah, Jonah, Micah, Nahum, Habakkuk, Zephaniah, Haggai, Zechariah Malachi).
On the other hand, the New Testament contains 27 books (Matthew, Mark, Luke, John, Acts, Romans, Corinthians 1 and 2, Galatians, Ephesians, Philippians, Colossians, 1 Thessalonians, 2 Thessalonians, 1 Timothy, 2 Timothy, Titus, Philemon, Hebrews, James, 1 Peter, 2 Peter, 1 John, 2 John, 3 John, Jude, Revelation).
It is always a good time to read the Holy Bible. Download it for free and enjoy this free Bible offline every day on your phone!