The Douay–Rheims Bible is a translation of the Bible from the Latin Vulgate into English.
The Douay–Rheims Bible is divided into two important sections,the Old Testament and the New Testament.
The New Testament was published at Rheims in 1582; the Old Testament at Douay in 1609.
Between 1749 and 1752, the translation was revised with an aim to improve readability and comprehensibility. It was first published in America in 1790. Several American editions followed in the 19th and early 20th centuries; prominent among them the Douay-Rheims 1899 American Edition Version.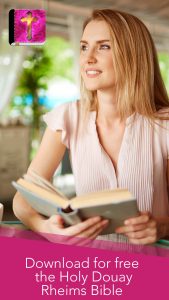 You can now access the Bible on your phone with this free app.
Download and read this beautifully written Bible, the Douay–Rheims Bible 1899 American Edition Version!
You can easily read the Bible, navigate, highlight important verses and share your favorite verses through email, SMS, WhatsApp, Facebook or Twitter.
The Douay–Rheims Bible consists of 39 books in the Old Testament (Genesis, Exodus, Leviticus, Numbers, Deuteronomy, Joshua, Judges, Ruth, 1 Samuel, 2 Samuel, 1 Kings, 2 Kings , 1 Chronicles, 2 Chronicles, Ezra, Nehemiah, Esther, Job, Psalms, Proverbs, Ecclesiastes, Song of Solomon, Isaiah, Jeremiah, Lamentations , Ezekiel, Daniel, Hosea, Joel, Amos, Obadiah, Jonah, Micah, Nahum, Habakkuk, Zephaniah, Haggai, Zechariah, Malachi ) and 27 books in the New Testament (Matthew, Mark, Luke, John, Acts, Romans, 1 Corinthians, 2 Galatians, Ephesians, Philippians, Colossians, 1 Thessalonians, 2 Thessalonians, 1 Timothy, 2 Timothy, Titus, Philemon, Hebrews, James, 1 Peter, 2 Peter, 1 John, 2 John, 3 John, Jude, Revelation)
Reading the Bible purifies our soul. Download the Douay–Rheims Bible 1899 American Edition Version and invite your friends and loves ones to read the word of God.
Study, learn and enjoy this complete application of the Holy Bible, now available free on your phone!